Blue Knights Member wins WGI Scholarship

DENVER, CO – Blue Knights Percussion Member, Kea'Anee Morgan, was selected for a 2015 WGI Κψµβοσ scholarship per a Κψµβοσ Facebook announcement on Thursday, March 12, 2015. Kea'Anee was chosen among 7 other winners for the scholarship program now in its 3rd year that has raised over $10,000 overall.
Congratulations are in order to:
Christopher Carlin – FIU Indoor Ensembles
David Haven – Atlanta Quest Cymbals
Anamaria Martinez – FIU Indoor Ensembles
Kendall Montie – Infinity Percussion
Kea'Anee Morgan – Blue Knights Percussion Ensemble
Vyvian Perez – Pulse & POW Cymbal Line
Rachel Rainwater – Atlanta Quest Independent Indoor Drumline
Shea Snyder – Dark Sky Percussion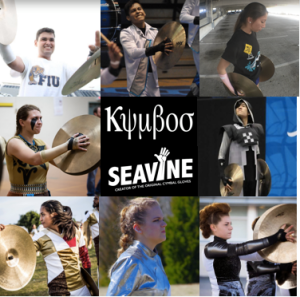 According to the Κψµβοσ website, this scholarship is made possible by cymbal players, for cymbal players. Funds were raised by The Cymbal Glove project, which not only makes this scholarship a reality, but also puts a fantastic performance tool literally into the hands of cymbal players. Additional funds are made possible by various donors. It is a charitable scholarship, awarded to those who are most deserving of charitable funds.
"I am undeniably pleased to be able to make the incredible announcement that I have been selected as one of the lucky recipients of the Κψμβοσ cymbal scholarship," said Kea'Anee Morgan through a Facebook post. "The cymbal, drum line, band community is a something that continues to make me grow happier and happier each day to be a part of."
The scholarship is open to all contracted members of 2015 DCI Open and World Class Drum Corps and WGI percussion ensembles performing as a cymbal player. Applicants must not be indebted to any organization (including prior camp fees) to be eligible for consideration.
All scholarships designated under the name of Kψμβοσ are awarded upon the basis of necessity as well as merit. The scholarship board consists of current and former educators of cymbal lines, as well as established leaders in the percussive community. This scholarship is awarded with the understanding that the recipients are dedicated to the idea that playing cymbals is a worthwhile medium in the pursuit of self-improvement, discipline, and performance opportunities. Recipients demonstrate a strong allegiance to these ideologies as life-long goals, as well as the consideration that he or she is further committing him or herself as an example within the activity in which he or she chooses to participate.
To learn more  about the Κψμβοσ Scholarship please visit www.cymbalgloves.com or contact:  info@cymbalscholarship.com.