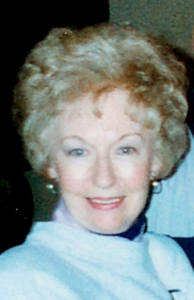 DENVER, CO – The Blue Knights family is saddened by the loss of the Blue Knights Hall of Famer and long-time volunteer, Marian Newcomer. She passed away at the Julia Temple Healthcare Center in the loving arms of her devoted daughter, Paula, on Monday, December 13, 2021. Marian was born on May 30. 1929 in Rockford, Illinois to Richard and Mae Johnson.  She was the oldest of seven children, three of whom were lost to childhood illnesses early in their lives. She is preceded in death by her husband of 60 years, Roger Newcomer; Brothers Richard, Dean, Arnold, and Keith; Sister Dawn; and son Peter Armato.  She is survived by her daughter Paula Armato; Brother Gary Johnson; Nieces Debbie Fritz and Donna Gronewald; Nephews Brian Johnson, Geoffrey Johnson, Thomas Johnson, Brad Johnson, Scott Johnson, and Chris Volkert.
Marian was a Member of the original VFW Junior Drum & Bugle Corps in Rockford, Illinois.  She later served as the musical arranger for the Phantom Regiment Drum & Bugle Corps.  She was a Licensed Practical Nurse, and worked as an Administrative Assistant for the Castlewood and South Metro Fire Districts in Colorado.  She enjoyed membership in the Denver Classics Chorale and the Littleton Paint Box Guild.
During a period in the Blue Knights' history when the organization struggled in the early 1980's Marian became active with the Blue Knights Drum & Bugle Corps when two of her nephews became members. Roger and Marian Newcomer stepped in to serve different roles. In 1982, when Roger took over as the Blue Knights Drum & Bugle Corps Executive Director, a new Board of Directors was established, a dedicated staff recruited, and an actionable financial plan was created. During this period, Roger and Marian started a Blue Knights Bingo game and raffle program, provided more performance opportunities to get in front of the local Colorado community, and implemented a solid fundraising program which set the foundation for future competitive success.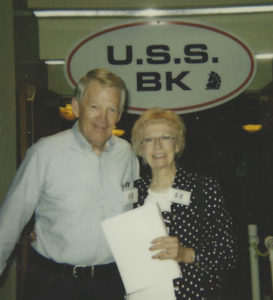 After Roger turned the reins over to his successor in 1983, Marian continued to contribute her artistic and creative skills to the drum corps. She spent many hours measuring and fitting uniforms on her quilt made up of Blue Knights t-shirts and directing volunteers on how to sew the 21 Dot buttons on each uniform. Marian donated her water color paintings to support the successful Blue Knights Silent Auctions held in 2002 and 2003. She also was instrumental in organizing the Blue Knights' 40th Anniversary Celebration of the organization. The Newcomers continued to support the activity by attending the Memorial Day Picnic, Drums Along the Rockies and Blue Knights Send-Off Shows. They both were vital in restructuring the organization and setting it up for success. Roger and Marian were inducted into the Blue Knights Hall of Fame in 2020 (read about it here).
"Roger and Marion Newcomer were responsible for bringing me to the Blue Knights," said Mark Arnold, Chief Executive Officer of Ascend Performing Arts.  "In my formative years they served as mentors, dear friends, and could always be counted on when times were difficult.  Marian was a true inspiration whose contributions were always focused on the young people we serve and that was always evident in everything she did in so many roles for over 30 years. Our hearts go out to her family and all who were touched by her life as we mourn together, and reflect upon all she did to make this world a better place."
You can read Marian's obituary here.
Services will be held and scheduled at a later date to be announced.