Blue Knights Staff Lead Indonesian Marching Band to IDCC Excellence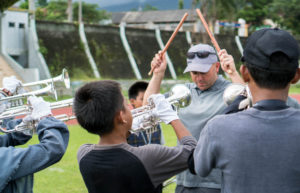 INDONESIA – Forged by a relationship with Kevin Shah and the Nada Syiar Daar El-Qolam Marching Band, several Blue Knights' staff members–Brad Toth, Kevin Shah, and Neil Adkison—recently traveled to Serang, Indonesia where they served as music and marching consultants for the NSDQ. The NSDQ was among many groups who competed in the DCI Indonesia Drum Corps Championship, with participants in drum corps, street parade, SoundSport, and DrumLine Battle segments this past weekend. The band had never competed before–and with prelims rained out, finals day was their first and last competition.
NSDQ went on to make history, winning the drum corps segment, taking 1st place in the DrumBattle portion, and earning 2nd place in the Street Parade portion.
"We handed out Blue Knights shirts for the staff and lanyards and stickers to the students, and they all loved everything. We had a great meeting with the head director and staff members for the future and how we can continue to build this relationship. We are all extremely excited for the future," said Neil Adkison, Visual Caption Head of the Blue Knights Drum & Bugle Corps.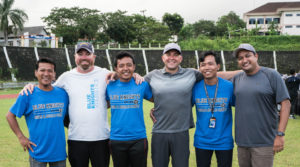 The NSDQ band's show was entitled, "Heart of the Machine" and was arranged by Kevin Shah of projectRISEmusic.com. Ascend Performing Arts would like to congratulate the staff and directors of the NSDQ marching band for their outstanding work ethic and thank them for their generous hospitality for our visiting Blue Knights staff members. 
"The Indonesian Drum Corps Association is providing amazing opportunities for young musicians in music arts education," said Mark Arnold, Executive Director of the Blue Knights Drum & Bugle Corps.
---