Broncos Stampede Featured by The Denver Post

DENVER, CO – The Denver Post recently featured the Broncos Stampede on their Denver Post TV that covers "in the moment" events surrounding the city of Denver.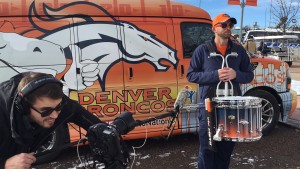 From the Denver Post article, "The Stampede Drum Line and the Broncos Brass have been a staple sound at Sports Authority Field at Mile High for years. Started as the Stampede Drum Line in 2003, the group was one of the first NFL drum lines, a number that has now moved in to the low twenties. Tailgaters can hear their favorite pep numbers played by the professional musicians, and fans in the stadium start every game with the band playing the Denver Broncos' fight song."
The Broncos Stampede, proudly produced by Ascend Performing Arts, is the official drum line and brass ensemble of the Denver Broncos. The Broncos Stampede consists of two ensembles that can perform independently: The Stampede Drum Line and the Broncos Brass.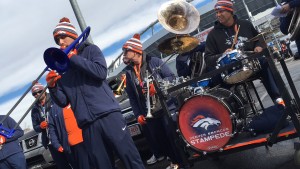 The Broncos Stampede Drum Line, currently managed by Dave Marvin, has been an active part of the Sunday afternoon experience at Sports Authority Field at Mile High in Denver since 2003, consistently wowing  tens of thousands of Broncos fans each year with high-energy performances in the parking lots, in the stands, or on the football field.
The Broncos Brass, managed by Mike Wille and Kevin Roe, was formed in 2009 and has performed both independently and along side The Stampede Drum Line at all Denver Broncos home football games, corporate events and media appearances, including a performance on The Today Show in 2014. The Broncos Brass also provided members for the collaborative Blue Knights-Taiwan ensemble that recently traveled to Tayouan, Taiwan as ambassadors for both the Drum Corps International SoundSport program and Ascend Performing Arts.  Read more about BK-Taiwan here.
Both ensembles are composed of drum and bugle corps veterans, college marching band members and musical performers looking to play for an energetic crowd. Anyone interested in joining the ensemble, please contact: Stampede@AscendPerformingArts.org.