Can you help Sandy?

Hello, it's Sandy. Some of you may know that I have kidney disease. Over time, my kidney disease has gotten worse causing my kidneys not to work well enough to keep me alive. This is what I am facing now, and my treatment options are limited to dialysis treatments or a kidney transplant.
Getting regular dialysis treatments, usually three times a week for four hours at a time, will help my kidneys do their job and keep me alive, but a transplant would offer me more freedom and the ability to live a longer, healthier, more normal life.
My blood type is A+ (a match would be A+, A or O).

If you are not a match

, you can be paired with another incompatible recipient-donor pair ("kidney swap").

You only need one kidney to live a healthy, long life.

You need to be in good health – no high blood pressure, not overweight, be cancer free and between the ages of 18 & 64.

Transplant surgery will be performed at Presbyterian/St. Luke's (P/SL) in Denver, Colorado.

The cost of your evaluation and surgery will be covered by my insurance. The hospital can give you extensive information on this.

You will have a separate team of healthcare professionals to evaluate you as a living donor. Their job is to help you understand the risks and benefits and look out for

YOUR

best interests.
If donating a kidney on my behalf is something you or someone you know would like to consider, please call the donor coordinators at Presbyterian/St. Luke's (you will need to complete general health information request):
            Kathryn O'Dea (720-754-2164)
            Christine Opp (720-754-3127)
If you aren't able to donate, please help spread the word with your friends and family!
Thank you,
Saundra (Sandy) Lasley-Ferry
---
ABOUT SANDY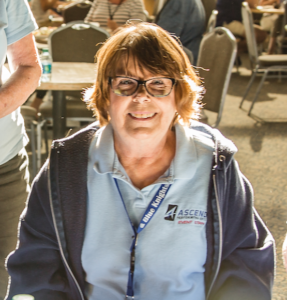 Sandy Ferry is an alumnus of the Blue Knights Drum & Bugle Corps from 1960-1965 as a color guard performer. She has been active through the decades helping in a variety of areas with Ascend Performing Arts to include being on the Booster Board of Directors (1992-2010),  coordinator for Age Out Dog Tags (2000-2018), authored the 50th Anniversary Compendium book (2008), helped out at Friendship Cup Marching Band Competitions (2008-2017) as well as supported the main office from time-to-time. She has served on multiple committees: Drums Along the Rockies (1996-Present), Alumni Hall of Fame (2018), the Blue Knights' 40th Anniversary, and Chaired the Blue Knights' 30th Anniversary Reunion. Because of her dedicated efforts, Sandy was named Blue Knights Alumni of the Year (1998) and Blue Knights Booster Volunteer of the Year (2000).