DCI 2015: Big, Loud, and Live!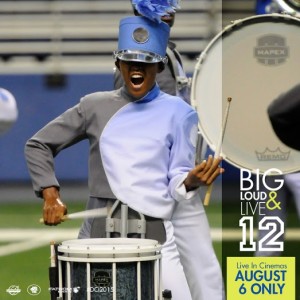 Thursday, August 6th, 2015 — Want to experience the adrenaline a corps member feels marching onto Lucas Oil Stadium's field in Indianapolis, IN?
Well, here's your chance!
For ONE day only, all over the nation, select movie theaters will be broadcasting DCI Championship Quarterfinals LIVE! This special event gives you a front row seat to watch your top 15 drum and bugle corps!
This is DCI's 12th year presenting Big, Loud, and Live, and it just keeps gettin' better. What better way to ring in the World Championships then going to your local theater to cheer on your favorite corps?
Buy a ticket, grab some popcorn, and engage in the most talked about event all season!
Visit the website to find the nearest movie theater and learn more here and at Fathom Events.