Help Keep Dinah Owen's Legacy Alive in 2017

DENVER, CO – Will you donate to help members who need financial assistance to join the drum corps or percussion ensemble? It was a sad day in March, 2014. We lost Dinah Owens, a long-time, committed volunteer for the Ascend Programs-the Blue Knights Drum and Bugle Corps and Blue Knights World Percussion Ensemble. A Memorial Scholarship was established to honor her legacy of supporting the members in both ensembles.
These scholarships have supported 18 members to date of both ensembles since that time! The scholarships made it possible for these individuals to express their love of and passion for music by participating in drum corps or percussion ensemble. Each recipient was selected by a committee through scholarship applications, references, and an essay. The selection was based on the qualities that Dinah saw as important in members, passion for the Blue Knights and what it stood for: teamwork, discipline to focus on goals, potential for leadership and talent in their individual areas.
Dinah was a great advocate of making each member and his or her family a part of the Blue Knights. She reached out to make members feel welcome, developing awareness of resources available and was very generous in giving out "Atta boy or girls!"
Will you help to keep Dinah's legacy alive by contributing to the Dinah Owens Memorial Scholarship on December 6, Colorado Gives Day? Doing so on this day only, your contribution will grow because your donation will help Ascend Performing Arts increase its allotment of the $1 million incentive fund offered by Community First Foundation and First Bank.
Please help us keep Dinah's Legacy alive in 2017!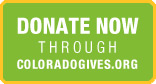 ---