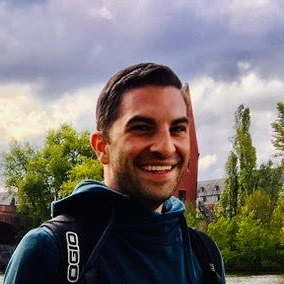 Geoff Longo is originally from Colorado Springs, Colorado where his performance career began at a very young age under the strong influence of his parents and their passion for the arts. Starting off as a national champion gymnast at age 11, dancing, singing, and acting, Geoff continued to expand into other performance opportunities such as color guard.
In 2008, Geoff graduated from The American Musical and Dramatic Academy focusing on TV/film acting, stage combat, dance, and voice production and speech. He went on to spend the next decade in LA working as an actor, and teaching color guard. He spent three seasons marching with The Cavaliers Drum and Bugle Corps (2008-2010), marched with Corona Independent World Guard (2009), and The Pride of Cincinnati Independent World Color Guard (2015). Geoff spent three summers (2011-2013) with The Mandarins Drum and Bugle Corps on staff and as their color guard caption head and visual designer. He spent eight years (2009-2016) on staff with the Arcadia HS color guard as a primary choreographer, technician, and designer. He has spent the last 9 years (2014-2022) on staff with The Cavaliers Drum and Bugle Corps as one of the colorguard choreographers and designers.
Geoff has taught, consulted, designed and collaborated with many successful high schools and independent organizations around the world including Liberty HS (CO), Rampart HS (CO), Air Academy HS (CO), Jefferson City HS (MO), Maysville HS (MO), Mascoutah HS (IL), MBI Winter Guard (MN), Avidity Independent (MO), Emanon World (NJ), Dawson HS (TX), Eastlake HS (TX), Opus X World (CO), Seven Lakes HS (TX), Klein Oak HS (TX), Deer Park HS (TX), and most recently Third Coast Independent (TX) and The Blackwatch (NJ). He traveled to Bahrain with Ascend Performing Arts serving as the color guard supervisor where the group performed for the F1 Grand Prix Opening Ceremony in 2017. In 2018, he traveled to Indonesia, where he spent time working with the NSDQ Drum and Bugle Corps helping them secure another Championship.
Now residing in Houston Texas, Geoff continues to work with groups all over the country in a variety of roles. Outside of Colorguard, Geoff is currently going back to school studying Graphic Design and can always be found with coffee in hand. He loves spending valued time with his family, his partner Austin, his close friends, enjoying the outdoors and traveling all over the world. Geoff is immensely thrilled to be starting this new journey with The Blue Knights, offering up his knowledge and passion to his students as a designer, creative, and technician!