Volunteer Spotlight: The Bertschs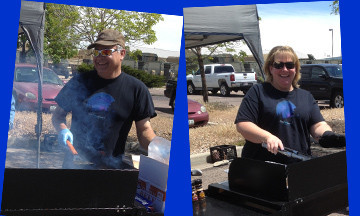 Meet John and Jenny Bertsch of Northglenn, CO, super volunteers and parents of Jesse – a second year trumpet player for Blue Knights Drum and Bugle Corps.  John and Jenny became involved with the Blue Knights as soon as Jesse "got bit by the drum corps bug".
How did they get involved here?  As Jenny notes – "Jesse was in the Mountain Range high school jazz band and the marching band where he was intrigued by a couple guys with cool blue jackets that indicated they were part of something special.  When Jesse was 15 he volunteered at All-Days for BK.  He watched and learned and said "that's what I want to do!"  Although there were many who told him he was not good enough, he pushed to be better and then proved he had what it takes.  Jesse inspired us – which made it easy to support however we could."
They must have a musical background, right?  Not really.  While John did play trombone in high school pep band, neither John or Jenny have any background beyond that or in the marching arts.  We will label them "aficionados".
How do they help?  John is an extremely talented prop builder and invaluable repair guy.  Last year he built new speaker carts for the pit and this year he came through with our mirror prop stands and a cart for storing/transporting the mirrors.  You'll find Jenny getting in there to help with the props and repairs, too.  John has seen many late nights and short sleep to complete projects for us.  We owe him a pillow or something.
Jenny and John have been "go to" people for grilling equipment and services for the Memorial Day picnic the last two years and for the Percussion Clinic at Drum Along the Rockies this year. Jenny helps us with many food donations and led the way to get the 300 some ears of shucked corn we've enjoyed at the Memorial Day potluck the last two years.  There are also many equipment donations – including a commercial size grill that is now on tour – thanks to them.
When nearly $1,000 of power cables were stolen from our food trailer this winter, John was able to find a source for the heavyweight cabling and complete the fabrication.  He has some great connections and experience that help make some of these things possible, but they both have great big hearts and talents that makes so many things possible.
Do they have time for anything else?  It seems they do.  John and Jenny also work with the Mountain Range High School Marching Mustangs and with Northglenn Performance Theatre spending "free time" building props, serving meals, fitting uniforms and costumes, pushing pit, and planning celebration banquets.  In addition, they find time to be involved in Boy Scout Troop 98 where John is a Scoutmaster.  John and Jenny demonstrate that if you have the passion, you will find a way.
So why do they do this (or "what are they thinking")? Let's let Jenny explain.   "Time is short.  We have a limited time with our children before they are grown and living their own lives. We all want the best opportunities and experiences for our sons and daughters.  So when they show the commitment, we need to support them in ways that we are able.  That may look like volunteering with mealtime, taking photos, helping design and build props, souvenir sales, information booths, uniform fittings, washing uniforms, cleaning Corps hall, cheering them on from the stands, and many other ways to show support . Or it may be that you are able to just open your checkbook to show your support. Whatever it is, big or small, just do something to make that difference for your son or daughter to have a great experience. Because, when helping one part you affect the whole and everyone benefits."  
To summarize, the reasons they volunteer are  "…to support a good cause.  For the satisfaction,.  To make a difference.  To do the right thing.  For the joy on the faces of those who benefit.  For being a little part of the big picture.  Or maybe –  just … "Because…".
On Behalf of Ascend Performing Arts and the Blue Knights – Thank you John and Jenny!
Keith Huffman
Volunteer@AscendPerformingArts.org
---
∴ Would you like to find your volunteer home with us?  Visit our Volunteer web page at https://ascendperformingarts.org/support/volunteer/ and send us an email to connect.  Your home can be here.  Make our youth your extended family!
∴ Do you have a nomination for a future Spotlight article?  Please email them in.
---