Volunteers 2017 – Year in Review

"Thank You!" Volunteers for a Wonderful Year in 2017!
A HUGE THANK YOU and special shoutout to all of our volunteers over the last year!  YOU make what we do possible and here's why.
As a little background, our tracking of Volunteer activity has improved greatly over the past couple of years. There are still some areas for improvement and those will be addressed, but the data helps us understand how much of an impact You and the collective YOU can have in our organization and to benefit those we serve.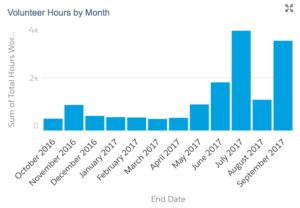 Anyway back to the point, for our fiscal year 2017 (Oct 2016-Sep 2017) the theoretical cost benefit that volunteers provided our organization, and ultimately our students, was approximately $152,150. This is obtained from the product of the sum of volunteer hours times a theoretical $10/hour payment.  (Colorado minimum wage is $9.30/hour). [FYI – the graph has a larger than normal spike in September due to many "catch up" hours being reported there.
If spread across our two fee based membership ensembles (Blue Knights Drum and Bugle Corp and Blue Knights Percussion Ensemble) this is able to reduce those membership fees by about $760 per member. So if you're a member, or parent of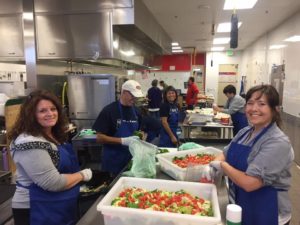 a member – please give a volunteer a hug or high-five for helping keep those fees down.
At a typical Denver drum corps camp we have approximately 35 volunteers and 350+ volunteer hours worked. There are roughly 90 slots for volunteers to sign up for at a camp in one of the 25+ shifts spread among 10 different jobs (i.e. the food service job has 7 shifts and each of those shifts has anywhere from 6 to 10 slots to fill).
Bingo is also a very large effort and entirely volunteer run. For the fiscal year there were 54 volunteers that contributed 4,239 volunteer hours. Bingo shifts are each Wednesday and Friday with 4 hour sessions. This is a HUGE benefit to our organization's operations and greatly benefits our Blue Knights Percussion Ensemble.
There were 17 Blue Knights Drum Corps Touring Volunteers that accounted for 3,484 hours during June 18 and August 12, 2017. These were primarily via food service along with some van driving. Another 25 people provided 187 hours of drop-in help and/or uniform washing during tour.
Our Events are not possible without volunteer power. Whether for our Corps Encore, or Drums Along the Rockies, or Friendship Cups, or other various camps or clinics; volunteers fill many roles and allow for successful shows and happy attendees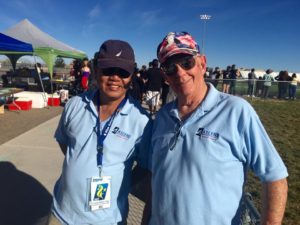 We also were successful in building out a new 53' food trailer for the drum corps using mostly volunteer effort. 783 hours of volunteer work by 29 individual over the course of 2-3 months. The result is a first class product that could set a new standard for drum corps mobile kitchens.
We will finish this off with a few boring or exciting statistics (depending on your interest level). Then special "Shout-Outs" to a few people that went way over and above with their dedication to our organization with their gifts of time. And finally we'll close with a list of each and every one our volunteers during fiscal year 2017 (or at least those that made it into our system). Thanks to each and every one!!!!
---
Some Volunteer Statistics from FY17
Total Hours Worked = 15,215

Total Number of Volunteer Shifts = 1,250+ (Shifts ranged in length from 1 hour to as much as 16 hours for a touring volunteer, but typically shifts over the year were about 4 hours)

Total Number of Volunteers = 251 (See the names list below)

Average (Mean) Hours per Volunteer = 61

Median Hours per Volunteer = 12

Mode Hours per Volunteer = 4 (This is what the majority of volunteers worked)

# people volunteered 40 to 100 hours = 30

# people volunteered 100 to 250 hours = 18

# people volunteered 250 to 500 hours = 11

# people volunteered 500 or more hours = 7  (See brief write-ups below)
Our 500+ Hour Honor Roll
Each of these people dedicated over 500 hours of time (some are close to 1,000 hours) to our organization.
Thelma Fung

–

Thelma is our Director of Development in charge of all our donor activity and associated fundraisers. She does what she does because she loves what we do.

Phyllis Ratterman and Joe Ratterman

–

 The Rattermans run our bingo operations and support our Friendship Cup series and also DATR. Over the years they have run the gamut of volunteer duties. If it needed done – they did it.

Janet Archibeque

–

 Our wonderful Food Coordinator for Denver camps and also supports All-Days and parts of Tour with her time. If you don't know Janet, you're missing out.

Alex Factor

–

The Alumni Coordinator, Alumni Corps Coordinator, a board member, and volunteer at other activities. He's very determined to rebuild our Alumni communication.  

Darrell Griffin

–

 Our Chairman of the Board and frequent volunteer with camps and other activities.  He's a great advocate of our organization and is always willing to get hands-on with loading/unloading, cooking, cleaning, …  

Keith Huffman

–

This is our Volunteer Coordinator and the guy that comes up with these numbers and names.  Don't let him fool you that he knows what he's doing; though he does like what he's doing.

Diana Weeks

–

 Diana was a wonderful Camp Volunteer and a Touring Volunteer with us last summer on the food trailer.  It's awesome to have a parent invest so much time with us.
Our Honor Roll of The Invaluable
Below are all 251 people that volunteered during fiscal year 2017. Each name contributes to what we can accomplish. Thank you to the following!
Dan Acosta, James Acosta, Reyna Acosta, Ken Adams, Sarah Adams, Jane Akdoruk, Sam Alaniz, Kima Albee, Gene Alexander, Jerry Allen, Patti Allen, Beverly Allenson, Todd Allenson, Gregory Andersen, Tony Antonelli, Janet Archibeque, Orlando Archibeque, Jennifer Arnold, Hannah Ashton, Grace Axtle, Sandy Barker, Chris Barnhart, Joe Bartko, Lance Barto, Deana Beck, Sherri Bell, Susan Bellone, Jesse Bertsch, John Bertsch, Jack Bevins, Dyanna Beyer, Diana Boettiger, Jim Bolender, Lisa Bolender, Michelle Bradley, Roger Brooks, Doug Brown, Jenifer Brown, Tom Campbell, Lynn Carranza, Jenn Carrasco, David Castillo, Skylar Clark, Steve Clark, Amy Clark Cohen, Brian Clavin, Diana Clavin, Brian Cocos, Mark Cohen, Stacey Coleman, Val Collins, Addison Constantinides, Nathan Constantinides, Theodoros Constantinides, Debra Cook, Kevin Cook, Neil Corvino, Spencer Counts, Lisa Cowden, Ernest D'Ambrosio, Martha D'Ambrosio, Antonio D'Lallo, Justyn Davidson, Michelle Davidson, Michelle Davidson, Dena Divelbiss, Doug Divelbiss, Sandy Drouillard, Tim Drouillard, Rosie Dugan, Kristen Duncan, Sue Ehrlich, Abraham Eng, Keenan Evans, Alex Factor, Scott Factor, Shari Farthing-Brooks, Sandy Ferry, Heather Florence, Chris Freaney, Karen Frederickson, Angela Fritz, Thelma Fung, Victor Fung, Lexi Gardner, Jared Gerard, Bill Goddard, Ethan Goddard, Courtney Gramley, Alma Granado, Corinne Greenrod, Marcus Griess, Darrell Griffin, Deborah Griffin, John Griffin, Beth Hackett, Stuart Hackett, Jill Hall, Gordon Hamby, Jeff Hargis, Doug Harris, Karen Harris, Harry Helwerda, Gail Hipke, Lynn Hipke, Alex Hobson, Tammy Hobson, Chuck Holt, Grayson Huber, David Hueser, Sandy Hueser, Ann Huffman, Jeff Huffman, Keith Huffman, Kirsten Huffman, Leigh Huseman, Eric Jones, Helen Jones, Jeff Jones, Pam Kellen, Doug Kelley, Aaron Kern, Robin Kiss, Nicky Kroge, Scott Kuzma, Dan LaMacchia, Moriah Lane, Stephan LeBlanc, Ginny Lewis, George Lindstrom, Ryan Lindstrom, Sherri Little, Zachary Little, Paul Lopez, Pete Lumley, Marc Lust, Lucy Lyons, Juan Maestas, Alena Marciglio, Jacoby Marciglio, Kim Marciglio, Amanda Marquez, Tara Marshall, Cori Martin, David Maxwell, Erin May, Bob Mayhew, Bill McDougald, Teiko McDougald, Aubrey Metzler, Steve Miller, Michael Moore, Kim Morciglio, Kevin Morris, Chuck Murphy, Carrie Natvig, Todd Natvig, Carolyn Nelson, Dian Nelson, Sandy Nelson, Stefan Newman, Alex Nielsen, Bill Nielsen, Clarissa Nielsen, Mike Nikishin, Brenda Nowicki, Dillon Orozco, Del Owens, Erika Pagan, Rebecca Parry, Becky Paschke, Chris Paschke, Maria Paulek, Carlos Perez, Eddie Perez, Gretchen Perez, James Perez, Mateo Perez, Dianna Perry, Beverly Phillips, Andrew Ramirez, Frances Ramirez, Hannah Ramirez, Oscar Ramirez, Joe Ratterman, Phyllis Ratterman, Christy Ray, Daniel Regalado, Dennis Richard, Benjamin Richie, Phredd Riggs, John Riley, Lisa Riley, Betsy Riner, Pamela Roberts, Leonard Robinson, Penni Royston, Donna Rubiano Arriola, Andrea Russell, Ashley Russell, David Russell, Mikayla Russell, Pat Salwerowicz, Richard Schatzman, Tom Schemp, Mark Schultz, Jason Shin, Tracy Slocomb, Lee Smith, Emily Soder, Connor Stemler, Christine Strang, Dave Strang, Patty Sue Femrite, David Sutherlin, Patti Sutherlin, Kenneth Swartout, Scott Teetsel, Vivien Teetsel, Jeff Thomas, Kathy Thomas, Kathy Tilson, Jason Trust, Shannon Trust, Susan Tubutis, John Tyburczy, Daniel Unger, Leslee Urhan, Wendy Van Norden, Ericka Vance, Michael Velasquez, Cleo Washington, Keisha Washington, Teya Washington, Diana Weeks, Scott Weidner, Thea Whelan, Addison Whelchel, John Whelchel, Kendra Whelchel, Denise Whipkey, Kathleen Wilhite, Bernetta Williams, Jean Williams, Mellissa Williams, Rhea Witchie, Cynthia Wood, Shannon Wood, Dick Yadon, Suzanne Yamamoto, Sean Yates
[Report any omissions to Keith at volunteer@ascendperformingarts.org.  We are aware of some areas that need better reporting but your input can help improve that.  Thanks!]
Please consider volunteering with us this year and make 2018 great! 
Learn more at HERE:

---