What It Takes
DENVER, CO – Off the field, away from the lights and the cheering fans, the most incredible part of the drum corps activity takes place… It's behind the glamour of performance that one can truly see and appreciate the dedication that is required in order to keep an ensemble of this caliber functioning.
Kay McLellan put together some statistics about what it truly takes to run our internationally-recognized, world class ensemble.


In the 85 days between May 16th, when the corps members move in for all-day training, and August 8th, at World Championship Finals in Indianapolis, IN, the corps travels 10,457 miles and makes 35 different tour stops. Their convoy is made up of 9 vehicles–an admin van, a volunteer van (this year, pulling the prop trailer), an RV, a food truck, an equipment truck, a staff bus, and 3 tour busses for the members.

DID YOU KNOW? Each tour bus holds between 150-250 gallons of fuel!
While that may sound like an unnecessary number of wheels, it takes at least that many to get the Blue Knights around–in size, they can only be compared to a small army. The 150-person corps consists of 11 front ensemble members, 29 trumpets, 16 mellophones, 16 baritones, 8 euphoniums, 16 contras, 36 color guard members, 9 snares, 4 tenors, and 5 basses (whew!). Each one of them went through a rigorous audition process in order to determine whether or not they would be the right fit for the corps. The 2015 corps was selected from around 800 audition-camp-attendees, and many have called them the

most talented membership the Blue Knights have ever had.
In addition to the ensemble members, there are 64 staff members, many of which also join the corps on tour. This includes the administrative staff, design team, guard staff, brass staff, percussion staff, visual staff, cook staff, and other staff members like interns and BK Marketplace staff.
Our remarkable cook staff is headed up by Doug McCarroll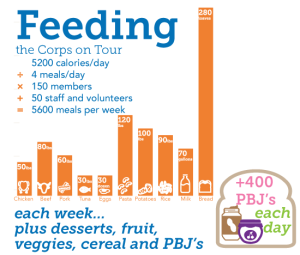 , long-time head chef for the Blue Knights. The corps is served 4 meals and 5,200 calories per day–that's close to three times the daily recommended intake, but many of the members still end up losing weight. That adds up to 5,600 meals per week, and close to 1,686 lbs of food.
DID YOU KNOW? The corps eats an average of 400 PBJ sandwiches per day–that's around 35 loaves of bread, and 25 16-oz jars of peanut butter.
Want to help #FeedTheKnights? Click here! You'll be personally thanked by our members via our Facebook page!
When it matters–and it always matters–the Blue Knights consistently have phenomenal volunteers who devote, together, close to 10,482 hours and provide services estimated to be worth close to $248,000. (Of course, to the organization, they're priceless.) The corps would be unable to function without the help of dedicated and passionate volunteers.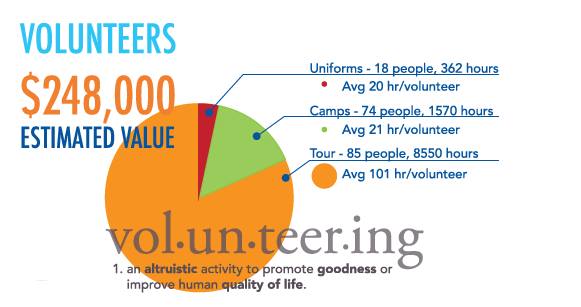 DID YOU KNOW? Our wonderful volunteers devote close to 10,482 hours of service to the corps over the course of a summer. Want to volunteer for the Blue Knights? Click HERE!
It's apparent to anyone familiar with the Blue Knights that, as individuals, everyone involved is incredible. Together, though, they are able to produce something truly indescribable, and that's where all the hard work pays off. Ultimately, it isn't about scores or donations. It's the ability to move an audience to tears and to their feet, the ability to change lives of spectators and members alike, the ability to form bonds and create memories that will last a lifetime… these are the things that set this activity apart.
It takes a lot to run a drum corps like ours, but in the end, we wouldn't have it any other way.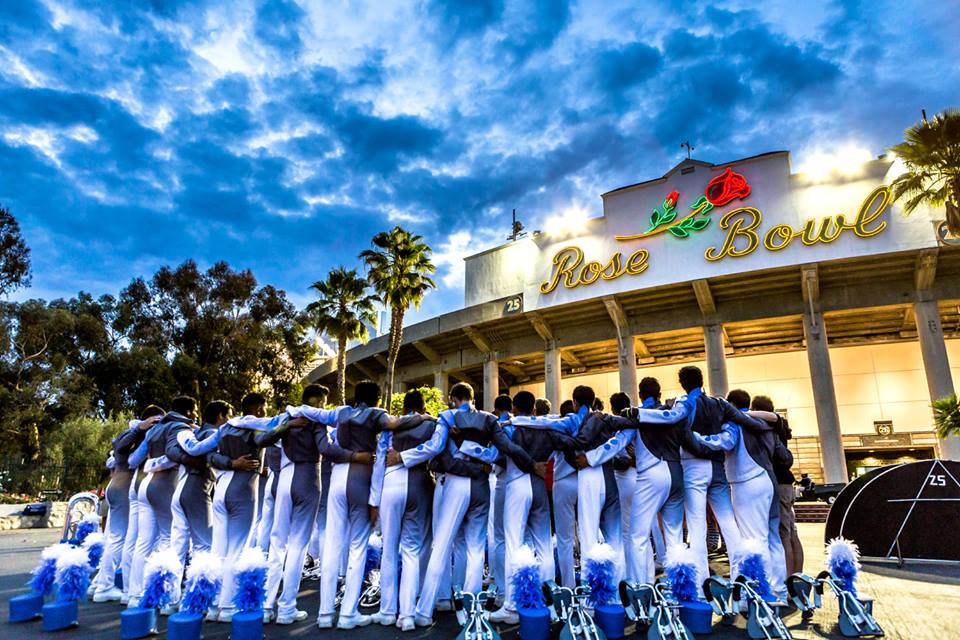 ---
Have you heard? The Blue Knights are competing in the second annual Rocky Mountain Rivalry against our Wyoming friends, the Casper Troopers by making a 100% tax-deductible gift before July 17th! We need YOUR help to continue our winning streak!

---
ABOUT THE AUTHOR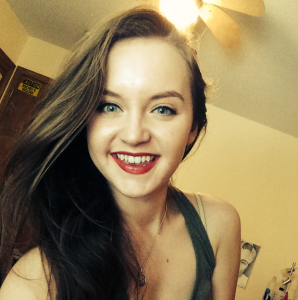 Rachel Hanna is a native of Des Moines, Iowa and is currently pursuing degrees in Communication and in English at Truman State University, located in northeast Missouri.
Rachel has been a passionate supporter of music and the marching arts for many years; she performed in Truman's Statesmen Color Guard in 2014, was on the founding executive board & design team of Amethyst Independent Winter Guard in 2015, and has been involved in various choirs throughout her life. She continues her involvement in Truman State's music department through Sigma Alpha Iota, a national women's music fraternity. She is excited to combine her professional communication interest with her love for the arts as a member of this brand new internship team.