Alumni Spotlight: GM Kuzma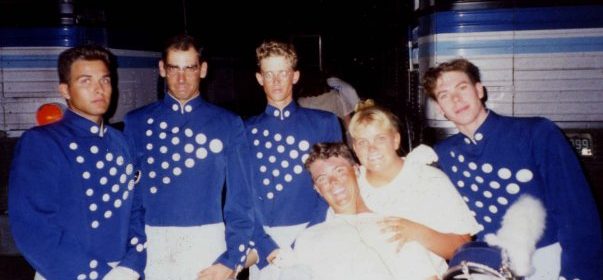 What years did you march in the Blue Knights?
I marched Blue Knights in 1994.
What section?
Mellophone. 
Where did you attend high school?
Boca Raton Community High School, Boca Raton, FL.
Education beyond high school?
Bachelors of Arts in Communications from the University of Central Florida (1998).

Bachelors of Science in Business/Management Information Systems from the University of Phoenix (2003).
Masters of Arts in Military Operational Art & Science from Air University (2011).
Joint & Combined Warfare School from Joint Forces Staff College (2019).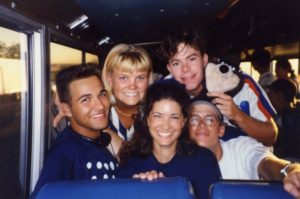 What is your current occupation?
Director of Operations (COO) for Ascend Performing Arts since 2016.
I am also an Air Force Reservist currently assigned to Camp Smith in Oahu, Hawaii as the Future Plans Director for Headquarters, United States Indo-Pacific Command. 
Why did you choose to march with the Blue Knights?
My friend, Dave Bayardelle convinced me to try out late in the spring of 1994. He marched lead baritone with Star of Indiana in 1993 and since Star was not returning to Drum Corps International competition in 1994, he went to Blue Knights because he really felt like it was home.
So, I recorded myself playing Trittico on mellophone and mailed the cassette tape off to Mark Arnold and received a contract. Dave and I booked our flight and went to All Days training at Stapleton Airport in Denver. And the rest, as they, is history.
What is your favorite drum corps memory?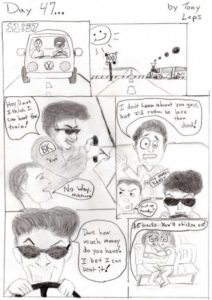 While there were many drum corps memories from the 1994 season with the Blue Knights, I could highlight Day 47 that was drawn into a cartoon by my UCF college friend Tony Leps for the "On the field from Denver, Colorado…The Blue Knights!" book.
I had originally planned to insert this silly cartoon into the book but it never made the final cut. 
So, that day I was driving our host family's Volkswagen yellow "micro bus" to practice. Along for the ride was Dave Bayardelle in the front seat (the guy who convinced me to march), baritone player Randy in the middle seat, and two girls from Taiwan that played in the front ensemble (who didn't speak a word of English) were sitting in the back seat.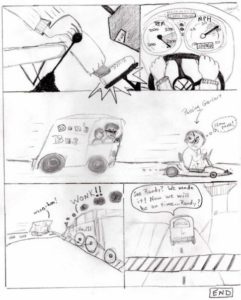 We were running late, so I dared Dave I could beat the train on the way to Stapleton Airport so we would make it to rehearsal on time. Being late meant we would have had to run laps and since we've been late due to the train before, we didn't want to be late again.
We actually had plenty of space with the train and we cleared it safely and made it to practice no problem. However, I may have embellished the way we beat the train slightly when I was telling my friend Tony about it.
I would like to point out that what I did may have been a little reckless and not representative of the Blue Knights while trying to get through railroad crossing before the gates came down and the train passed. But the situation made for a funny story later.
How have the Blue Knights impacted your life?
I have spent over 25 years in the performing arts activity because of my experience with the Blue Knights.
My time as a performer consisted of high school Boca Raton "Pride of the Gold Coast" marching band, the University of Central Florida "Marching Knights" college marching band as well as a performer with Blue Knights and Madison Scouts in Drum Corps International (DCI) and with Heat Wave in Drum Corps Associates (DCA). I have been active with the Blue Knights serving in various roles as a van driver and cook for several years and was the tour director in 2007.
I moved to Denver to dedicate more of my time to help the organization by taking on the role of Director of Communications in 2014 and served in that position until 2019. I met my wife, Jordan through the Blue Knights organization and we have 3 wonderful children (who will hopefully be Blue Knights themselves someday…).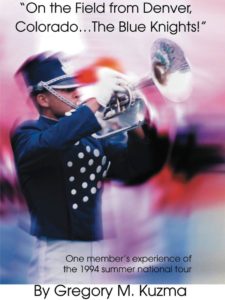 I have also been a marching band clinician and visual judge with the Central States Judges Association. I've contributed to various publications as a features writer for publications such as Halftime Magazine and Drum Corps Planet writing stories about drum corps and marching band.
In 2004, I published a memoir about my experience as a member of the Blue Knights called "On the field, from Denver, Colorado…The Blue Knights!" where 100% of the book's sales go toward supporting today's Blue Knights members.
Buying a book here is one way you can help future performers get the Blue Knights experience.
In my current role as Director of Operations with Ascend Performing Arts, I also manage our BKXperience-Perform! Clinics during the summer and oversee our Events such as Drums Along the Rockies and Friendship Cup shows and Entertainment groups such as the Denver Broncos Stampede Drum Line & Brass.
What are some the Blue Knights' core values/principles that have resonated with you in life?
My experience with the Blue Knights have had a positive impact on my 21 years in the Air Force Reserve as a Logistics Officer with multiple deployments to the Middle East and East Africa.
The values of hard work and dedication were a natural fit for my military career. The Blue Knights have been central to our family's values of "Family First, Find Your Path, and Have Fun" as we continue to cheer on today's Blue Knights Drum & Bugle Corps, Blue Knights Percussion Ensemble, and Blue Knights Winds groups.
I am proud to call the Blue Knights my home since 1994 and look forward to helping this organization continue to "elevate life performance" for thousands more young people through our 4 mission areas of Education, Ensembles, Events, and Entertainment for another 25 years.
What advice would you tell someone considering trying out for the Blue Knights?
The level of excellence the Blue Knights has achieved through the decades has been nothing short of amazing. I would encourage anyone interested in becoming a part of the Blue Knights family to give it a try. We have amazing educators and dedicated volunteers who give so much to make this a fantastic place to call home.
The BKXperience-Audition! Clinics (visit BKXperience.org) provide an opportunity of a low-threat environment where prospective members don't have to audition for a Blue Knights ensemble if they don't want to. You can still get the experience and feedback if you attend. It really is a win-win situation!
How would you like to see other Blue Knight alumni get involved in the organization?
There are over 4,000 Blue Knights alumni out there doing amazing things!
I would love to see Blue Knights alumni get involved in any way they feel comfortable with. Blue Knights alumni can give their time by volunteering, offer their talent by contributing a skill to improve the Blue Knights, or simply make a charitable donation to help the Blue Knights provide the best experience possible.
---
∴ Want to be featured in a future Alumni Spotlight? Fill out the  Alumni Update form here or email: Alumni@AscendPerformingArts.org