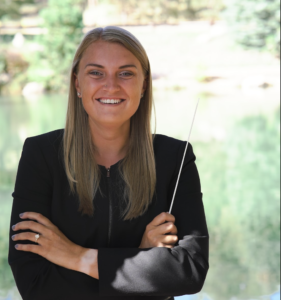 Hannah Peterson is a music educator originally from Highlands Ranch, Colorado and is currently one of the band directors at Liberty High School in Colorado Springs. Hannah received her Bachelor of Music Education from the University of Colorado in Boulder and she is in the process of earning her Master's degree with the American Band College.
Hannah spent her drum corps career marching with the Troopers Drum and Bugle Corps in 2017 and the Santa Clara Vanguard Drum and Bugle Corps in 2018. She served on the brass staff at the Santa Clara Vanguard Cadets Drum and Bugle Corps in 2022.
In her free time, Hannah likes to go camping and play board games with her friends and hang out with her cats Mist and Freya. Hannah is excited to be joining the Blue Knights team this year!