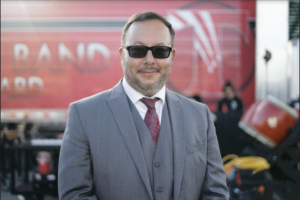 Trombonist and Educator Robert Soto is a native of El Paso, Texas. Robert has been active as a professional musician and teacher for the last twenty years, having performed and taught across the United States, Mexico, Canada, England and Brazil. He has worked with such artists as Sir Neville Marriner, Dave Taylor, Gary Foster, Brad Leali, Bill Reichenbach, Tito Puente Jr, Dave Brubeck, Alan Silvestri, Eric Nathan and Frank Ticheli to name a few. Robert has also recorded/performed with a variety of groups including the El Paso Wind Symphony, Long Beach Symphony, Golden State Pops Symphony Orchestra, Clare Fischer/Brent Fischer Jazz Group, Elliot Deutsch Big Band, Conjunto Oye and on the IFC series Comedy Bang, Bang! He has performed with the Yale Philharmonia at the 50th Anniversary Celebration of the Hungarian Revolution at Carnegie Hall in NYC, Birmingham and Wigan Jazz Festivals in England, the International Association of Jazz Educators (IAJE) convention, the Texas Music Educators Association (TMEA) convention and the Music for All National Festival and Summer Symposium.
As a featured soloist, Robert has performed at the Texas Tech Big XII Trombone Conference, with the El Segundo Concert Band, Fullerton College Symphonic Winds, Southern California Trombone Day, and the William H. Taft Wind Ensemble. Robert has been in demand as a freelance trombonist, private instructor, conductor and guest clinician. He has worked with a variety of music programs ranging from beginning bands, middle school/high school ensembles, college/university groups and community bands. Mr. Soto has been a member of the Western Band Association, Southern California Scholastic Band Orchestra Association, International Trombone Association, and the Texas Music Educators Association. His students and ensembles have received numerous recognitions from scholarships to leading university music programs to consecutive festival and UIL sweepstakes awards. Robert has presented clinics at
TMEA and serves as an active adjudicator in Region 29/Area H. In addition to his program work, Robert has served on the brass staffs for: Chino Hills High School, Ruben S. Ayala High School, Blue Knights, Sacramento Mandarins, Cavaliers, Boston Crusaders and The Battalion Drum & Bugle Corps. Robert holds a Bachelor in Music Education (Cum Laude) from the University of Texas at El Paso and a Master in Music Performance from Yale University, School of Music. He has studied trombone with Scott Hartman, Steve Norrell, John Lofton, Steve Wilson, Allan Kaplan and Robert Melendez. His conducting studies were with Dr. Ron Hufstader and Maestro Toshiyuki Shimada. In 2013, Robert was selected as a performer for the Pokorny Low Brass Seminar, where he studied with members of the Los Angeles, San Francisco, Detroit and Chicago Symphony Orchestras. Robert has served as the trombone faculty at Fullerton College, Cal Poly Pomona University, and as Director of Bands at Norte Vista High School, El Segundo Middle School/High School.
Currently, Robert is one of the Associate Directors of Bands at William H. Taft High School in San Antonio, Texas. He also serves as the low brass instructor for Schreiner University in Kerrville, TX. Off the podium, Robert devotes his time with his beautiful wife April, their children Camila and Alexander, and their furry kids too. Mr. Soto is excited to be returning to Blue Knights as a member of the brass instructional staff. Mr. Soto is a performing artist for Yamaha Corporation of America and performs on Yamaha trombones exclusively.