More info will be posted soon
Want to stay in the loop? Fill out the Audition Interest Form below and you'll be the first to know as soon as audition info goes live.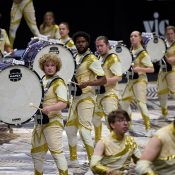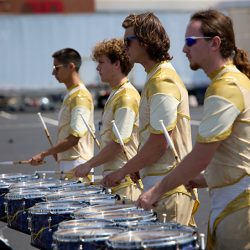 September 18th, 9am – 9pm: Auditions #1
September 25th, 9am – 9pm: Auditions #2


The audition process is across both audition weekends. Expect to attend both dates to audition for BKPE.
Want to stay in the loop? Fill out the Audition Interest Form below and you'll be the first to know as soon as audition info for next season goes live.
Create a BKX Account
Create a BKX Account and get started on your Blue Knights journey. If you already have an account, log in to return to where you left off.
Register and Purchase Audition
Purchase the BKPE Audition and download the packet.
Get to practicing!
Come Audition
Attend the Auditions on September 18th and 25th.
If you get a Contract…
You will be sent an electronic contract to sign and you will need to make your acceptance payment towards your member tuition.
Complete required documentation and forms.
Who can audition for BKPE?
The Blue Knights Percussion Ensemble is open to anyone under the age of 23 years on April 1 of the competitive season. Most members are between 16 and 22 years old.
I don't know if I'll make the group. Should I still come to auditions?
You should absolutely still come to auditions! Participating in the audition process is a fantastic learning experience, regardless of your likelihood to become a member. You'll also never know unless you try!
Do I need to attend both the 9/18 and 9/25 auditions?
All auditionees are expected to attend both weekends. If you are from out of state or you absolutely can not make one of the audition days, please email us at [email protected].
Are BKPE auditions and the Blue Knights Drum & Bugle Corps auditions the same?
No, these are independent auditions. Both ensembles are operated under Ascend Performing Arts: BKPE competes within RMPA & WGI, the BKDBC competes within DCI. You do not need to audition for one ensemble to be a part of the other.
How much is member tuition?
The member tuition for 2023 is being finalized, however it will be approx. $2,100 - $2,600. This covers the cost of instruction, design, uniforms, show production needs, circuit registration fees, Dayton travel & housing, and more.
If you are contracted, the audition fees are applied towards your member tuition balance.
Ascend Performing Arts has scholarships to apply for and fundraising resources for those who need financial support to be able to march. Have a plan before you come to auditions. Being able to pay your member tuition is a necessary part of being a member of this ensemble.
Can I participate if I have not been vaccinated for COVID-19?
No, all members will be required to show proof of vaccination as a part of their member contract. We take the safety of our ensemble, its members, and its staff very seriously. Requiring vaccinations is core to our policies regarding COVID-19 and our ability to protect our ensemble and the time investment our members and staff make to be a part of this activity.
If you would like to audition and need to get vaccinated, you can find vaccine information here: https://covid19.colorado.gov/vaccine
What will the rehearsal schedule be?
After auditions, we will have sub-sectionals in October. Regular season rehearsals are each weekend on Saturday & Sunday from November through mid-April, picking up Friday evening rehearsals during show season starting mid-January.

We also have a winter camp as well. Specific dates TBA.
Why don't full rehearsals start up right after auditions?
We recognize that many of our members participate in drum corps and strongly encourage them to do so. In this regard, we realize that many of our members need down time between the DCI and WGI seasons, for both their mental and physical health. Having our audition dates in September and regular rehearsals picking up in November allows us to solidify plans for the finalized membership, while also giving our members time before rushing right into the next marching season.
Can I audition for another ensemble?
We believe it is in everybody's best interest that you march with your dream ensemble if you are able, even if that is not us. Although we believe you will have an amazing and unparalleled experience being a part of BKPE, it does not serve us or you if you are still wondering "What if...".
If you are wanting to make sure you march this season and are auditioning for multiple groups we ask that you are upfront and forthright during the audition process so we can discuss with you your options if you are offered a contract at BKPE while still finalizing auditions with another group.
My family and friends want to help, what do you need?
There are many volunteer opportunities within the Blue Knights Percussion Ensemble, primarily truck driving (CDL required), sewing, providing meals, etc! Visit our Volunteer page to see all our needs or email [email protected]ormingArts.org for more information regarding help.
Who do I contact if I have other questions?
If you have any further questions, please contact Keenan, BKPE Director, at [email protected].