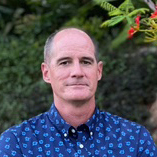 Jed Weeks was a part of the Blue Knights organization from 2010-2018, serving as Program Coordinator from  2014-2018. In 2013 he served on the design team as Audio-Visual Coordinator. From 2010-2012 he was a Brass consultant/Assistant Caption Head. Before that he was on the brass staff for the Santa Clara Vanguard from 1996-2003, serving as the brass caption head from 2002-2003. He was also a member of the Cavaliers brass staff in  1994, and the Sky Ryders in 1991.
Mr. Weeks has recently retired after 27 years as a Band Director in Texas. He was the Director of Bands at Byron  Nelson High School in Trophy Club, Texas from 2010-2022. During his time at BNHS, he was the Director of the Marching Band, Wind Ensemble, and Co-Director of the BNHS Symphony Orchestra. During the 2021-2022 school  year, the BNHS Symphony Orchestra was invited to both the Midwest Band and Orchestra Clinic in Chicago, and the  Texas Music Educators Association Convention in San Antonio to perform at both of these prestigious events in the  same school year. Previously he was the Director of Bands at Colleyville Heritage High School in Grapevine Colleyville ISD from 2004-2010.
Prior to his appointment to CHHS, Mr. Weeks was the associate director of bands at Richland High School in North Richland Hills, Texas from 1999-2004. He was also associate director of bands at Berkner High  School in Richardson, Texas from 1998-1999, and Clements High School in Sugarland, Texas from 1995-1998. He served as a substitute musician for the Houston Symphony Orchestra and San Antonio Symphony Orchestra on  Trombone from 1995-1998. 
Mr. Weeks earned two degrees from The University of Houston: Bachelor of Music Education in 1994 and Master in  Applied Music (Trombone) in 1998. He was a Graduate Assistant at the University of Houston in 1994-1995. He was  also fortunate to work with numerous Houston area band programs such as Westfield High School and Langham  Creek High School as a private instructor and marching instructor while earning his college degrees. 
Mr. Weeks continues to be an active clinician, judge, coordinator, and designer for bands across the United States.  His professional affiliations include the Texas Music Educators Association, Texas Bandmasters Association, and Phi Mu Alpha Sinfonia. He currently resides in Roanoke, Texas with his wife Mary and sons Cameron and Ethan.