Alumni Spotlight: Izaak Mendoza

Name: Izaak Mendoza
What year(s) did you march in the Blue Knights? 2008 – 2010
What section?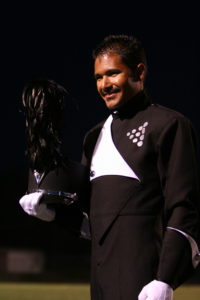 I was Drum Major alongside my partner, Blue Knights Executive Director Jordan Helwerda all three years! I also was percussion soloist my age-out year in 2010.
Where did you attend high school?
East High School in Cheyenne, WY.
Education beyond high school?
I went to the University of Wyoming for undergrad and received a B.A. in International Studies with minors in Anthropology, Religious Studies, and Spanish. I'm currently finishing up my last semester of graduate school, where I'm pursuing two master's degrees — a Master of Public Policy (focused on U.S. Foreign & National Security Policy) and a Master of Business Administration (focused on Strategic Marketing and Management).
What is your current occupation?
While in grad school, I've been driving the marketing strategy of two departments here at my business school, though I've also been able to work at the Minnesota State Capitol and U.S. Department of State running strategic policy and media campaigns.
After graduation in May, I have a global brand management role lined up, and someday hope to achieve my goal of becoming a diplomat in the U.S. Foreign Service!
Why did you choose to march with the Blue Knights?
I had an intense personal drive to march drum corps and being from southern Wyoming, the Blue Knights were the closest corps to me. I fell in love with the corps identity as a whole, with a brass sound that was so warm and dark, the approach to the percussion philosophy, and the expressive nature in everything the corps did — from the painted flags to the heavy dance influence the corps was known for. I knew I was going to be surrounded by peers and instructors that would continuously make me better at the Blue Knights, and I truly found my home with them.
What is your favorite drum corps memory?
There's really nothing like the feeling of conducting horn arc, though if I had to pick a single moment in my drum corps career, it would be conducting the Nimrod ballad on Quarterfinals night of my age-out year. It was the best show I've ever had!
How have the Blue Knights impacted your life?
Simply put, the Blue Knights have given me the tools I need to be successful at anything I pursue in my life. The corps taught me how to approach each day with grit and how to lead a passionate group of people towards a common goal. Not only have the Blue Knights given me critical life skills but they've given me numerous opportunities to lead and stay engaged and I am extremely grateful for that. They were key in sparking my journey of personal development and studying organizational leadership.
Some of the best life lessons have come from the teachings and mentorship of Blue Knights figures like Andy Smart, Jeff Ausdemore, Robbie Billings, Marc Sylvester, Abe Eng, Mark Arnold, GM Kuzma, and Ashley Drayer.
What are some of the Blue Knights' core values/principles that have resonated with you in life?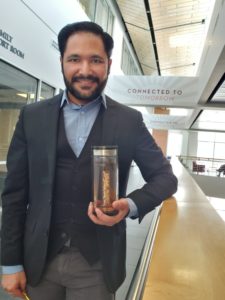 I've learned that real life is just an extension of drum corps. It's still about having an awareness of your technique, fundamentals, and exaggerating the dynamics — whatever little things that make you and your work great. It's still about consistency, getting reps into whatever you're doing, making time for stretching, and breathing through the discomfort.
I've found that life can sometimes feel like a constant uphill battle….like a sun-filled rehearsal day somewhere in the middle of Kansas. But it's there, in that struggle, that the best drum corps are made — and likewise, it's your struggles that give you the opportunity to rise to the challenge and emerge successfully. My Blue Knights experience has challenged me to live each day in the pursuit of excellence by continually trying to raise my own personal standards. And even though we fall and fail at times, it's about pushing through and getting up…..*prep* and starting again.
What advice would you tell someone considering trying out for the Blue Knights?
I would encourage them to think not only about the playing and performing aspect of auditions, but in how they approach the audition experience as a whole. Your attitude towards long lunch lines, no hot water in the showers, and getting stuck with random chores are a part of daily drum corps life when on tour. If you show a positive attitude and willingness to help off-the-field (alongside a growth mindset in the audition room), you'll be setting yourself up best for success.
How would you like to see other Blue Knight alumni get involved in the organization?
Alumni involvement is REALLY important — but it's key to remember that it looks different for everyone. Some of us live close and can volunteer at camps, shows, or go on tour. But instead of dwelling on any barriers that may keep us from being involved (I can't give financially to the scholarship fund right now, I live too far away, etc.), I hope we think creatively about how we can give back to an organization that has given us so much. The Blue Knights have trained us to be successful in life, and we each have unique ways to provide value that will make current members' experiences more memorable. You work for a big food company? Try to get some free snacks donated for camps! Work as a mechanic? I'm sure our corps' caravan could use a little TLC! Live far away and don't know how to help? Grab some BK apparel and wear it around proudly — and I'm sure it'll spark some conversations about the drum corps activity!